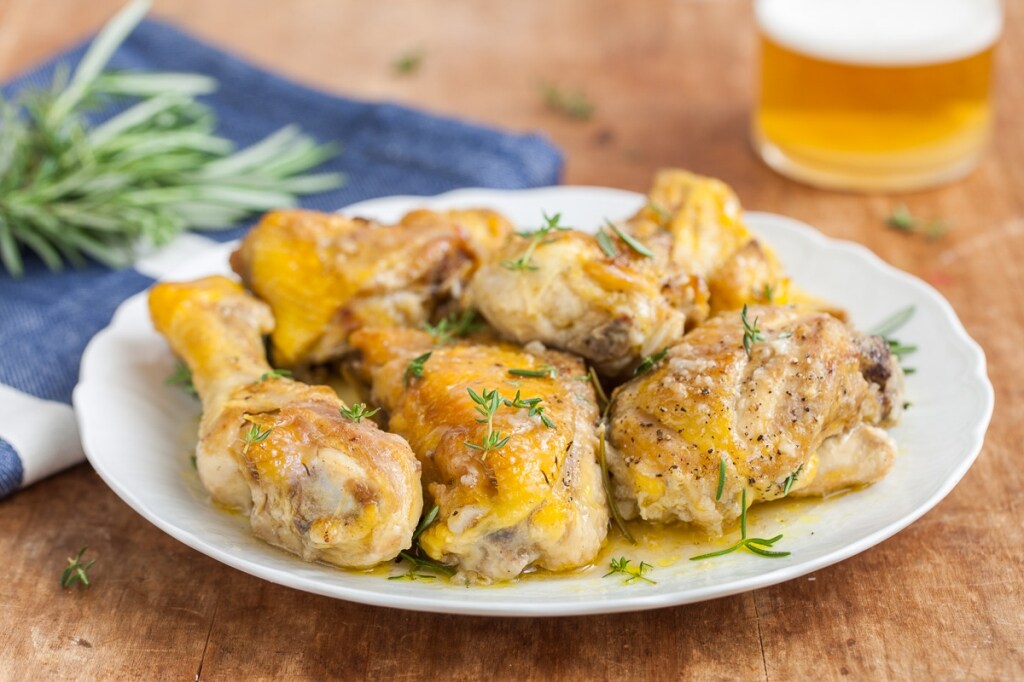 Baked chicken with beer is a versatile recipe. Second course of white meat, rather easy to make, is prepared quickly and is suitable for a family dinner as well as an evening with friends. With its aromatic flavor it goes very well with a simple side dish of potatoes or fresh vegetables.
INGREDIANTS
800 g of chicken in pieces
400 ml of light beer
2 cloves of garlic
Rosemary
fresh thyme
Flour
extra virgin olive oil
1 knob of butter
salt
black pepper
The first thing to do, when you prepare the chicken in the oven with beer, is to wash the chicken pieces and dry them. Then transfer them to a glass container together with the beer, the garlic cut in half, a few grains of crushed black pepper, thyme and rosemary. Leave to marinate, covering the container with cling film, for at least 1 hour in the refrigerator.

After this time, drain them well from the marinade (which you will keep aside) and flour them.
Brown the chicken pieces in a saucepan where you have heated 2 tablespoons of oil and the butter. Turn them often so that they are evenly browned, then season with salt and transfer them to a baking dish.
Add the marinade kept aside, with the aromatic herbs and garlic. Go into the oven, already hot at 200 °, and cook for 40-50 minutes, compatibly with the size of the pieces of meat.
At the end of cooking, transfer to serving dishes and immediately serve the chicken in the oven with the beer.
Enjoy your meal!

If you want to buy Italian products you can go up www.deliveryitalianfood.com. Numerous offers await you!