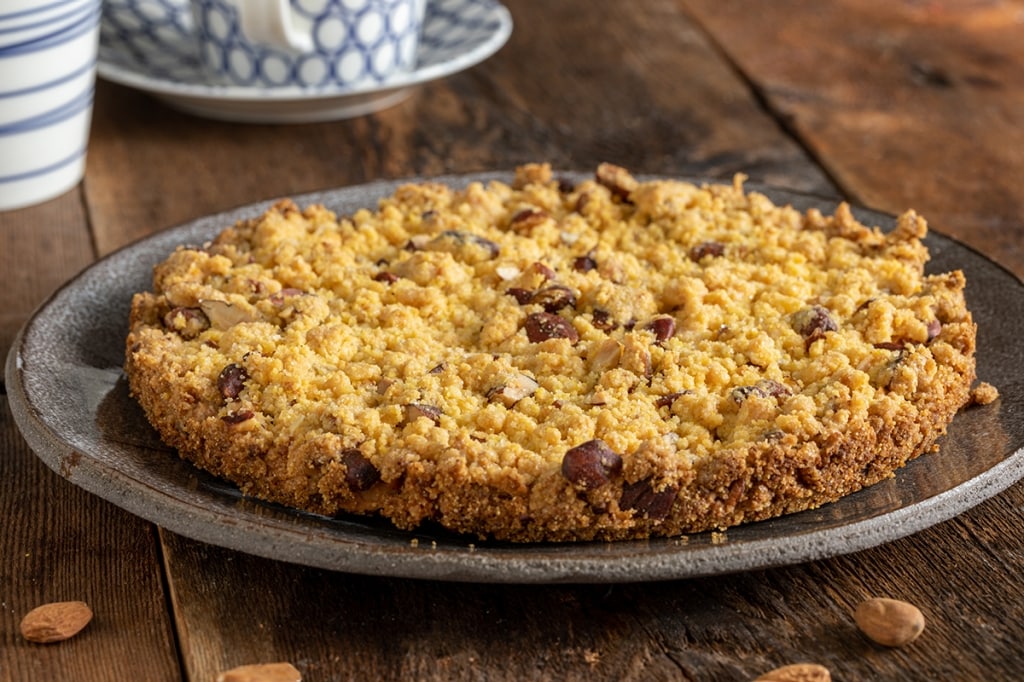 The sbrisolona cake is the traditional dessert of Mantua and its surroundings. A rustic almond-based cake that includes a mix of wheat and corn flour and is enjoyed with pleasure at breakfast, as a snack with a cup of tea or as a dessert, preferably accompanied by a cream.
INGREDIANTS
200 g of white flour
200 g of fine corn flour
180 g of sugar
200 g of unpeeled shelled almonds
200 g of butter
2 egg yolks
1 untreated lemon
a pinch of salt
To prepare the sbrisolona cake, first mix the two flours with the sugar and a pinch of salt in a bowl. Add the coarsely chopped almonds and mix everything together.
Make some space in the center, like a fountain, and add the two yolks. Add the finely grated lemon zest and the soft butter cut into small pieces. Work everything with your hands until you get a dough consisting of large crumbs.
Grease a 26 cm diameter springform pan and arrange the crumbled mixture on it, leveling it gently, without pressing.
Bake in a preheated oven at 180 degrees for about 40 minutes. Remove from the oven and allow to cool completely before unmolding.
Transfer the sbrisolona cake on a serving dish and serve it by breaking it up with your hands.
Enjoy your meal!
If you want to buy Italian products you can go up www.deliveryitalianfood.com. Numerous offers await you!