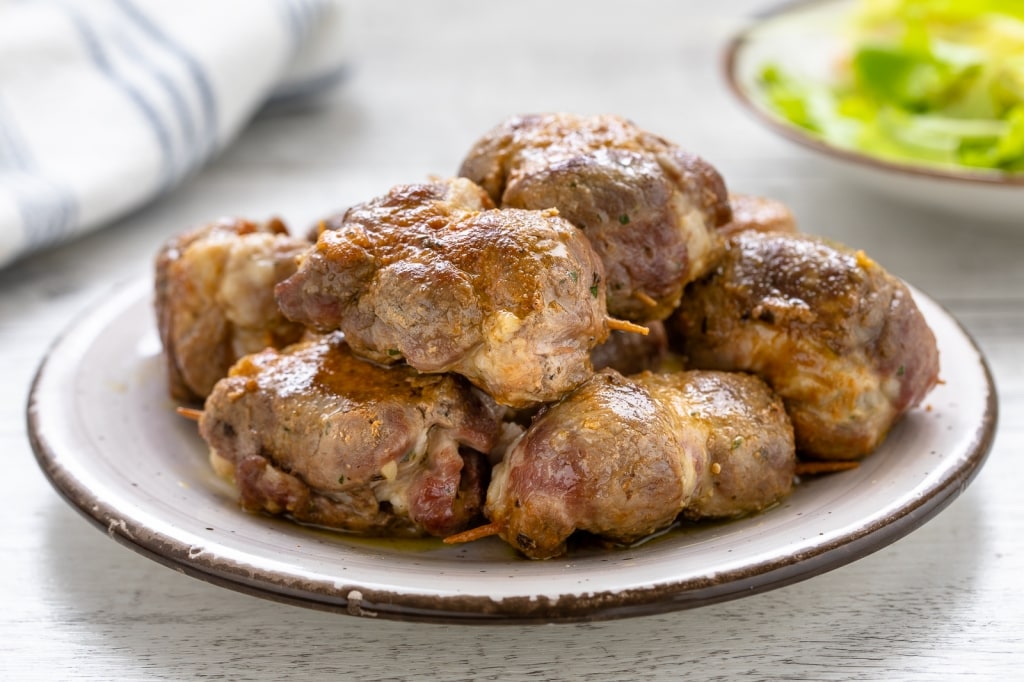 The Apulian bombette are a true cult of regional cuisine. Pork rolls stuffed with caciocavallo and bacon. An easy recipe for a very tasty second course. Hearty and satisfying, prepare plenty of them because one bowler hat leads to another!
INGREDIANTS
8 slices of pork neck
8 slices of stretched bacon
80 g of semi-seasoned caciocavallo
1 clove of garlic
fresh parsley
extra virgin olive oil
salt
pepper
To prepare the Apulian bombette you must first, if the butcher has not already done it, beat the slices of capocollo so that they thin. If they are too big, cut them in half. Spread them on a cutting board and place on each a slice of bacon, the caciocavallo flakes and sprinkle with a teaspoon of chopped parsley together with the garlic.
Roll everything up to obtain rounded rolls and secure them with toothpicks. Season with salt and pepper, then brown them in a non-stick pan with a couple of tablespoons of oil for 10 minutes without turning them.
After this time, turn them very carefully (if you use a fork take care not to pierce them) and continue cooking for another 15-20 minutes. Serve the Apulian bombette with a side of salad or potatoes.
Enjoy your meal!

If you want to buy Italian products you can go up www.deliveryitalianfood.com. Numerous offers await you!