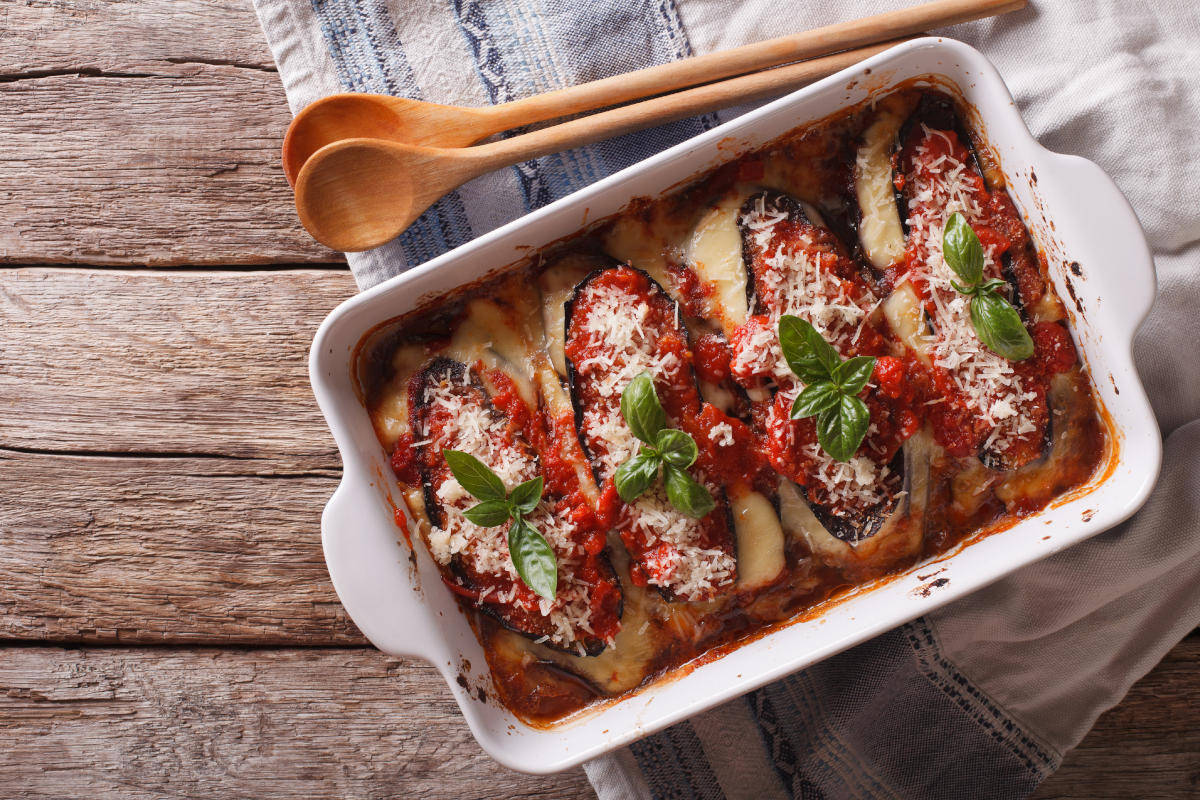 It is the queen of single dishes, the consoler of dejected moods: the aubergines parmesan. A recipe shared and disputed as origins from north to south: Emilia Romagna, Campania (Parmigiana 'and mulignane) and Sicily (Parmiciana or Patrociane) with some variations of ingredients and methods of composition, but all absolutely fabulous! Have you ever wondered why it's called that? The name "Parmigiana" derives from the Sicilian "Parmiciana", which in dialect indicates the pile of wooden slats of the shutters.
INGREDIANTS
1 kg 200 g of oblong aubergines
500 ml of tomato sauce
300 g of mozzarella
half onion
100 g of grated Parmesan cheese "Parmigiano Reggiano DOP"
1 clove garlic
1 bunch of basil
1 liter of oil for frying
extra virgin olive oil
salt
pepper
Flour
To prepare the eggplant Parmigiana, first wash the aubergines, peel them and cut them into slices about half a centimeter thick along the length. Once cut, arrange the slices in layers in a colander, sprinkle with salt between one layer and another. This procedure is useful for draining the aubergines. Place the colander on a plate or in a bowl and cover it, with a plate or better still with a weight that presses it. Leave them for 1 hour or for the time necessary to make them lose the vegetable water. When the aubergines have lost it, pat them to dry them
Fry the chopped onion and crushed garlic with 2-3 tablespoons of extra virgin olive oil, remove the garlic, add the tomato puree, basil, salt, pepper and cook the sauce for 15-20 minutes ( someone adds half a teaspoon of sugar).
Now pass the aubergines in the flour. This step in the process is not carried out by everyone, some recipes do not require flour.
Fry the aubergines a few at a time, in plenty of hot oil for frying, let them brown on both sides. Once fried, take care to place them on absorbent kitchen paper, without overlapping them.
Cut the mozzarella into slices. Now start whipping the eggplant parmigiana. In a baking dish pour a little sauce on the bottom and arrange a layer of eggplant, cover with a few tablespoons of grated Parmesan, basil and slices of mozzarella.
Continue with the layers, following the same order, until all the ingredients are used up. The ideal, if you have the time, is that at this point let the Parmigiana compact for a couple of hours before cooking it, letting it cool.
Bake in a preheated oven at 180 degrees for 30 minutes.
Remove from the oven and let it rest at room temperature. It is well known that parmigiana guarantees an excellent result if served the day following the day of preparation.
If you want to buy Italian products you can go up www.deliveryitalianfood.com. Numerous offers await you!
Enjoy your meal!