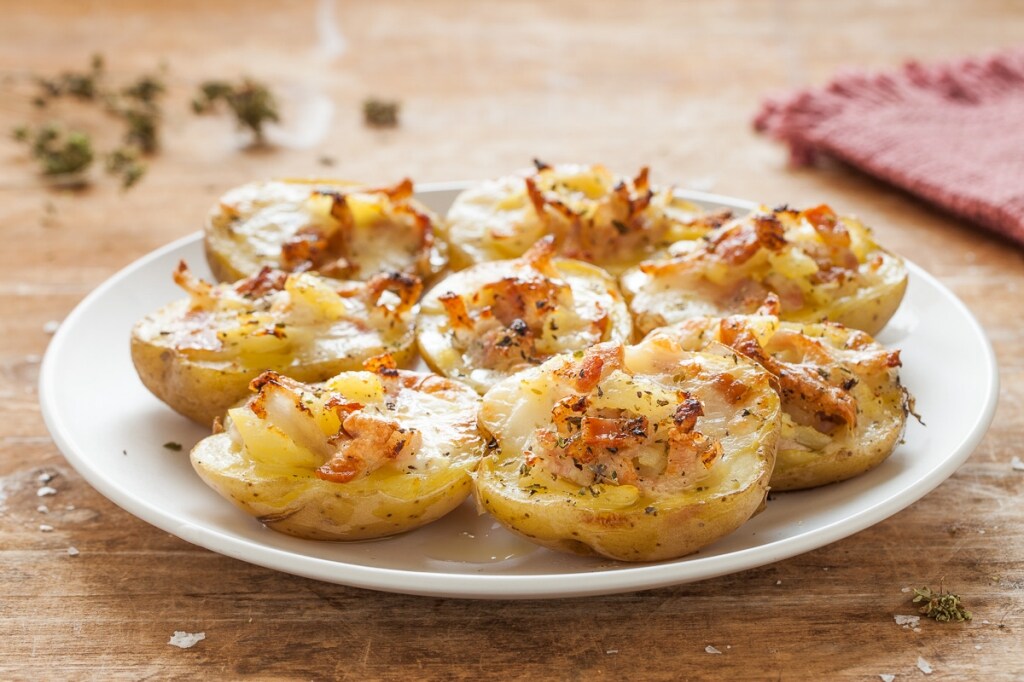 INGREDIANTS
4 medium potatoes, possibly of the same size
100 g of bacon
150 g of smoked scamorza
extra virgin olive oil
dried oregano
salt
black pepper
To make stuffed baked potatoes, you must first wash the potatoes very well, leaving the skin intact. Place them in a saucepan with salted water and cook them for 20-25 minutes from boiling. Drain and let them cool. With a knife cut them in half horizontally and, with the help of a digger, take a good part of the pulp, taking care not to break the edges or the bottom of the potatoes themselves.
Collect the pulp in a bowl and mash it with the tines of a fork. Add the bacon cut into strips, the diced scamorza and season with oil, salt, pepper and oregano to taste. Stir to mix well and stuff the potatoes with this mixture.
Transfer them to a baking tray lined with parchment paper, sprinkle them with a drizzle of oil and sprinkle with a little oregano and a sprinkle of pepper.
Bake them in a preheated oven at 180 ° for 15-20 minutes, or in any case until the cheese has melted and a slight crust has formed on the surface. Remove from the oven and immediately serve the stuffed baked potatoes hot.
Enjoy your meal!