A popular legend has it that they were born following the incursion of some mercenary soldiers passing through a South Tyrolean inn. Faced with the demand for food from the patrons, despite the late hour, the innkeeper improvised something with what was left in the kitchen. Hence the idea of shredding leftover speck and other cured meats and mixing them with stale bread, flour and milk, to create balls to be cooked in boiling water. Beyond the legends, the humble origin is certain: the dumplings are, in fact, what is called a recovery dish. The peasant need to make the most of – and above all not to waste – the few resources available was the inspiration for a specialty that, not surprisingly, is based on raw materials such as stale bread and flour, the result of labor in the fields, and eggs and speck, linked to livestock farming.
Ingrediants
For 4 people
250 g of stale white bread
150 g of Speck
2 eggs
250 ml of milk
1 onion
50 g of butter
Parsley
30 g of flour
Salt and pepper
Chives
Mix the eggs and milk and add the diced bread. Brown the chopped onion in butter together with the diced speck. Add the parsley and flour.
Adjust with salt and pepper. Let the dumpling dough rest for about half an hour. If the dough is too soft, add a little breadcrumbs (do not add flour, as it will make the dough hard).
Now, with your hand and with the help of a kitchen shovel or a spoon, form the dumplings (divide the dough into about 8 dumplings).
Cook for about 15 minutes in salted boiling water. The dumplings can also be cooked in the steamer or in a pot with a steaming insert (recommended for dumplings with salad).
Sprinkle with the chives and serve with meat broth or vegetable broth.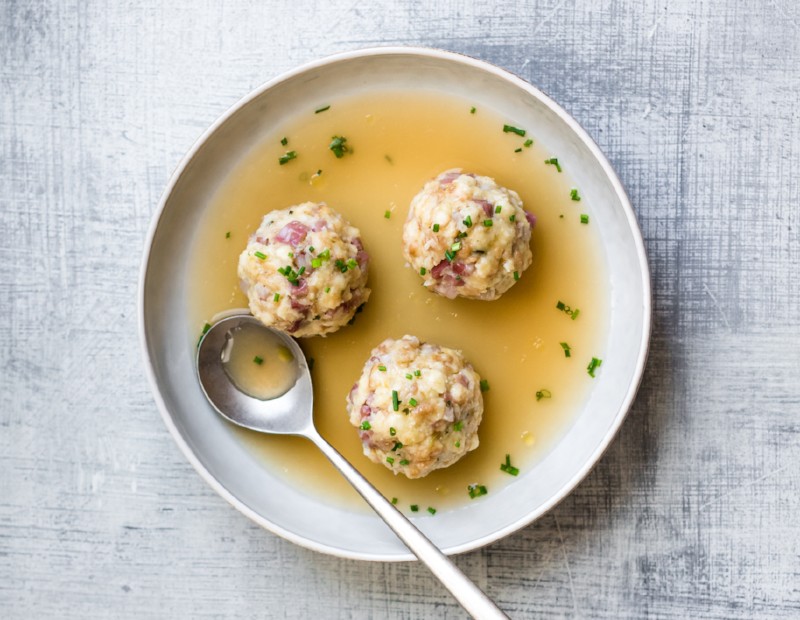 If you want to buy Italian products you can go up www.deliveryitalianfood.com. Numerous offers await you!
Enjoy your meal!