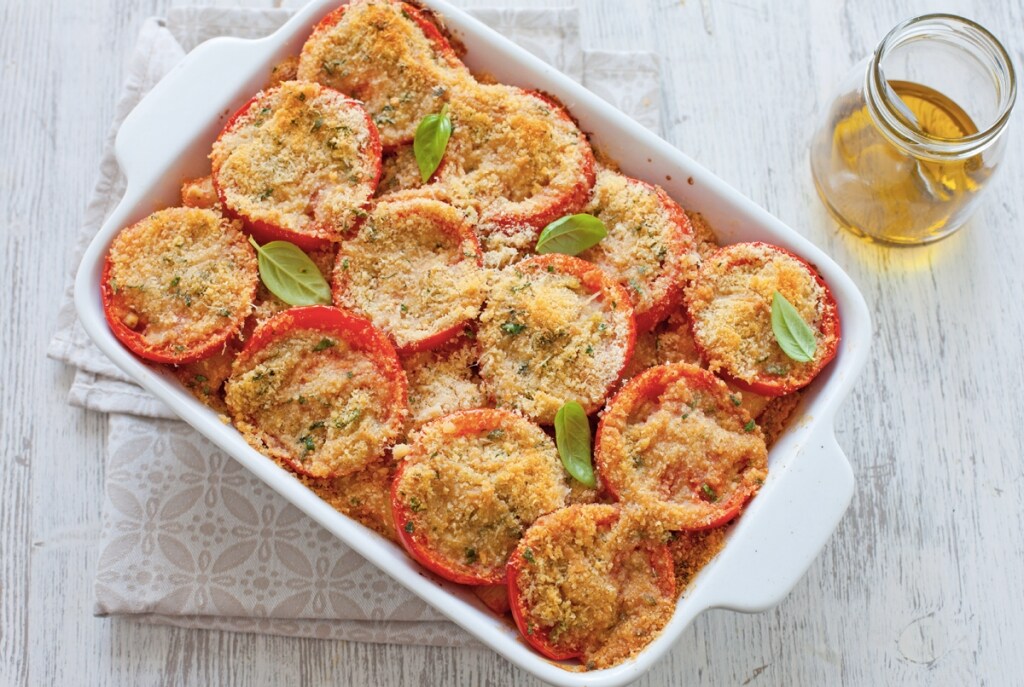 A perfect recipe for a simple dish: baked pasta and tomatoes. With this proposal the
a typical Sunday first course with the family becomes lighter and faster to cook.
It can be done in advance and is suitable for both a family lunch and a lunch break at work.
INGREDIANTS
FOR PASTA
500 g of broken rigatoni or ziti
2 kg of ripe tomatoes
80 g of breadcrumbs
1 handful of chopped parsley
1/2 clove of garlic
60 g of grated pecorino
60 g of grated Parmesan cheese
salt
pepper
FOR THE SAUCE
800 g of peeled tomatoes
2 cloves of garlic
oil
salt
pepper
The first step for baked pasta and tomatoes is the preparation of the sauce: in a pan heat a deciliter of oil, brown the garlic cloves and then remove them, add the chopped tomatoes, salt and pepper, cook for 15 about minutes.
Cut the ripe tomatoes in half (or rather high slices), cut the surface into squares, add salt and let them drain for 30 minutes.
In a bowl, mix the breadcrumbs with the minced garlic, the grated pecorino and parmesan, the parsley.
Arrange half the tomatoes in a baking dish brushed with oil, sprinkle them with half the mixture of breadcrumbs, sprinkle with a drizzle of oil and cook au gratin in a hot oven at 220 ° until the surface is golden (about 30 minutes), remove and keep aside.
Boil the rigatoni, leaving them still raw in plenty of salted water to a boil, drain them, toss with the tomato sauce and a little breadcrumb mixture, distribute them over the gratinated tomatoes.
Cover with the remaining halved tomatoes and sprinkle the surface with the breadcrumbs mixture. Drizzle with a drizzle of oil and bake in a hot oven at 220 ° until the surface is golden.
Remove, let it rest for a few minutes and serve the pasta and tomatoes in the oven.
Enjoy your meal!