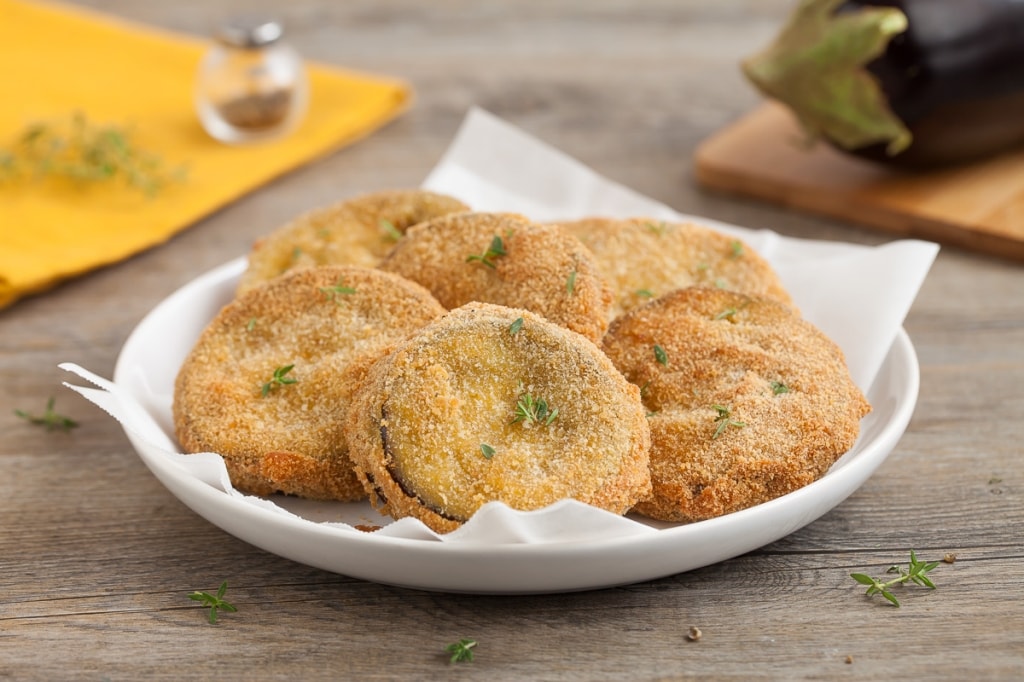 Aubergine cutlets are a delicious and easy second course, which can also be proposed as an appetizer or at aperitif time: thanks to the double breading they will be irresistible!
INGREDIANTS
2 medium-sized black round eggplants
2 eggs
60 g of breadcrumbs
30 g of grated Parmesan cheese
50 g of coarse salt
salt
pepper
peanut oil for frying
thyme leaves for garnish
To make the aubergine cutlets you must first wash the aubergines and cut them into 1 cm thick slices. Transfer them to a colander and sprinkle each slice with a little coarse salt. Let it drain for 1 hour at room temperature. After this time, wash them well to remove the excess salt.
Then dry them in a non-stick pan, without oil, heating them for a few minutes on both sides.
Let them cool completely and proceed with the breading. Pass first in the egg, beaten with salt and pepper, and then in the breadcrumbs mixed with grated Parmesan cheese. Repeat the operation in order to make a double breading.
Fry the aubergine cutlets, a few at a time, in plenty of peanut oil at 170 °, making them brown on both sides. Drain them with a slotted spoon and dry them on kitchen paper. Transfer the freshly fried eggplant cutlets to a serving dish and serve hot, garnished with thyme leaves to taste.
Enjoy your meal
If you want to buy Italian products you can go up www.deliveryitalianfood.com. Numerous offers await you!