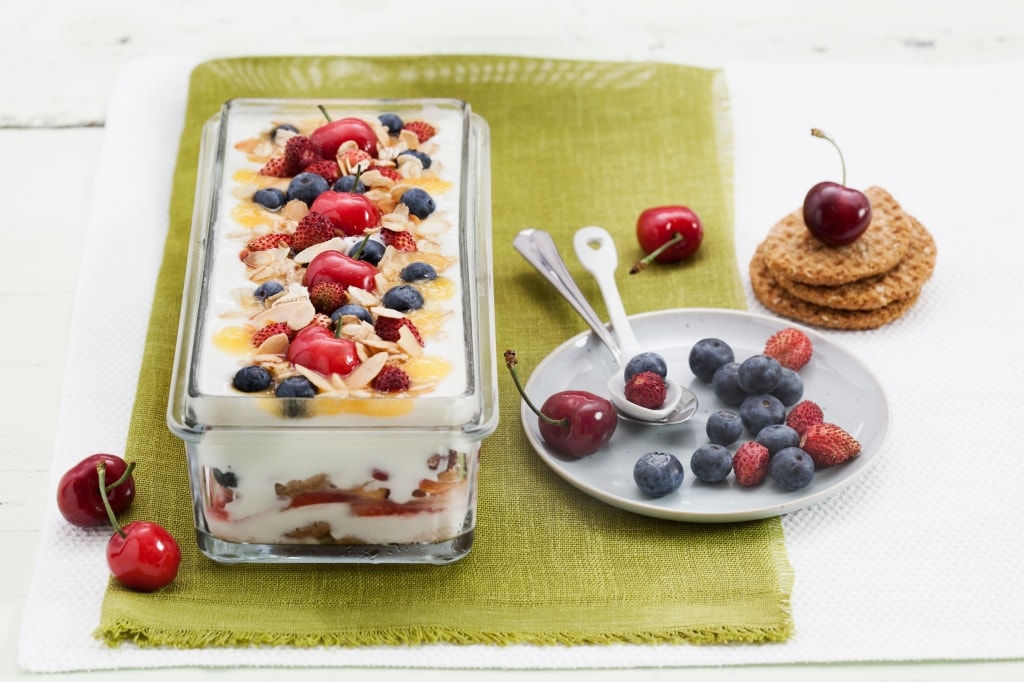 This recipe is very different from that of the classic tiramisu, it is an alternative that uses the same principle of the famous Venetian dessert but has among the ingredients only yogurt, biscuits and fresh fruit. A fruit spoon dessert perfect for the summer season: light and healthy!
INGREDIANTS
400 g of whole yogurt
500 g of mixed fresh fruit (pitted cherries, blueberries, wild strawberries)
2 ripe peaches
120 g of oat biscuits
2 tablespoons of oat flakes
30 g of sliced almonds
½ glass of raspberry juice
3 tablespoons of sugar
To prepare the yogurt and fruit tiramisu, wash, clean and cut the mixed fruit (keeping some for decoration) and a peach as desired, add 2 tablespoons of sugar, mix and leave to rest in a cool place.
Spread a layer of slightly overlapping biscuits on the bottom of a glass bowl and brush them with the raspberry juice.
Then add a layer of yogurt and sprinkle it with a part of fresh fruit. If you want a softer cream, you can add a little whipped cream mixed with yogurt. Follow with a layer of biscuits brushed with juice and spread the last layer of yogurt.
Blanch the remaining peach for 2 minutes, drain, peel it and then blend the pulp with the remaining sugar and pour the puree over the cake. Decorate with the mixed fruit that you had set aside. Let the tiramisu rest in the refrigerator.
A few minutes before serving, briefly toast the oat flakes with the almonds in a non-stick pan. Spread them on the yogurt and fruit tiramisu and serve.
Enjoy your meal!

If you want to buy Italian products you can go up www.deliveryitalianfood.com. Numerous offers await you!