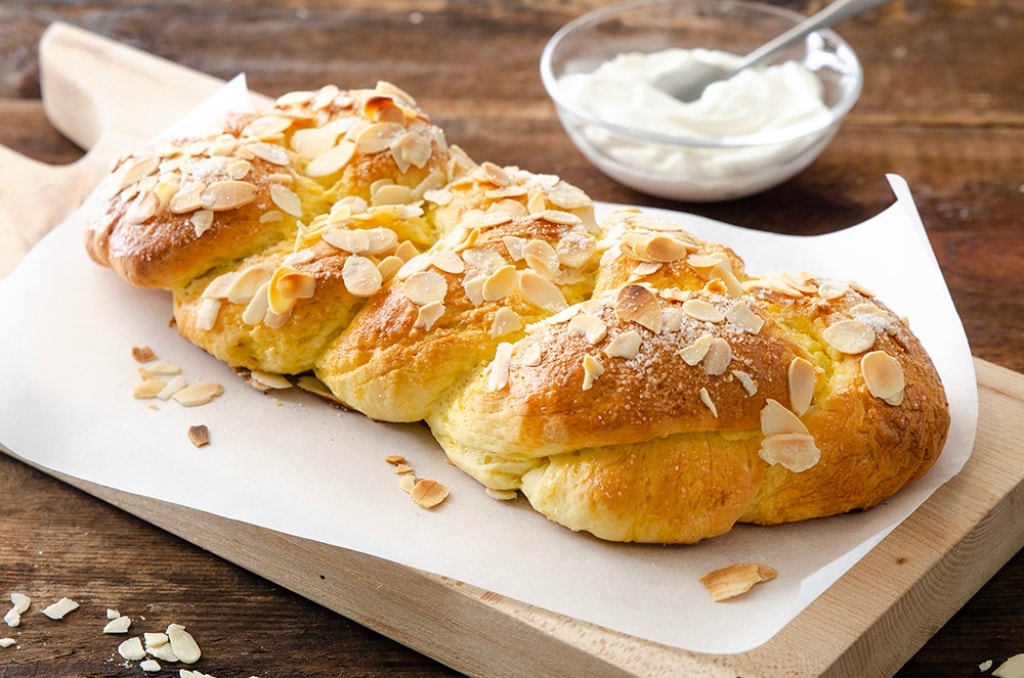 It takes three leavening stages to make the sweet yogurt braid but the final result amply repays the wait. Prepared with Greek yogurt and decorated with sugared almond flakes it is a perfect dessert to soak up for breakfast, delicious at snack time or Sunday brunch.
FOR TWO BRAIDS
25 g of brewer's yeast
1/2 dl of milk
1 teaspoon of granulated sugar + one for the surface
650 g of flour 00
2 eggs + 1 yolk at room temperature
150 g of orange blossom honey
250 g of Greek yogurt
60 g of soft butter
30 g of sliced almonds
1 pinch of salt
To make the sweet yogurt braid, prepare a yeast by crumbling the brewer's yeast in a bowl and combining half a deciliter of warm milk plus a teaspoon of sugar. Stir with a spoon, or with your fingertips, until the yeast is completely dissolved. Then add 50 grams of sifted flour, knead quickly and cover the bowl with cling film. Let it rise in a warm and sheltered place for at least 30 minutes.
After this time, break the eggs into the mixer bowl, add the honey, yogurt and a pinch of salt and mix with a whisk for 5 minutes.
Add the remaining sifted flour, the prepared baking powder and the diced soft butter to the mixture.
knead everything for 10 minutes until the dough is smooth and elastic. Cover the bowl with cling film and let the dough rise for 2 hours.
Take the dough, deflate it and divide it into two equal parts and then each into three loaves.
From each dough, make a loaf and then intertwine them three by three in order to obtain two braids.
Gently brush the two braids with the egg yolk, beaten together with a couple of tablespoons of milk, sprinkle them with the sliced almonds and sugar and bake them in a preheated oven at 200 ° for 10 minutes. Then lower the temperature to 180 ° and continue cooking for another 30 minutes. Remove the yogurt braids from the oven, and let them cool on a wire rack before serving.
Serve the sweet yogurt braid accompanied by your favorite jam or honey.
Enjoy your meal!
If you want to buy Italian products you can go up www.deliveryitalianfood.com. Numerous offers await you!