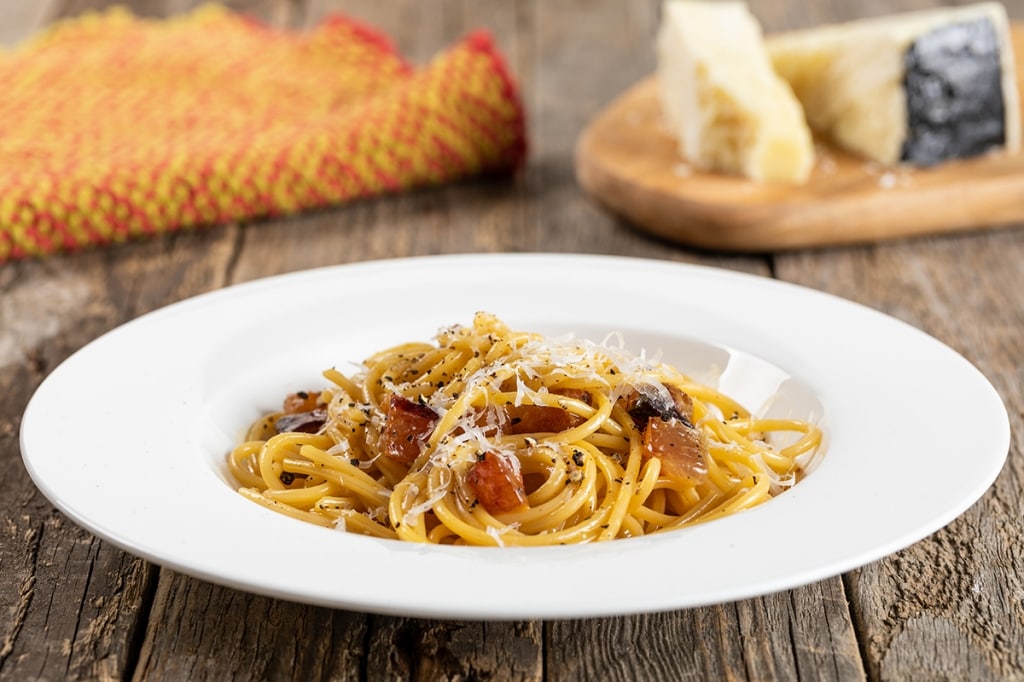 Spaghetti carbonara is a great classic of Italian cuisine. A recipe that everyone agrees when it is celebrated and that instead divides when it comes to preparing it.Our recipe is inspired by the most traditional Roman possible one, at least in the choice of ingredients, which are: bacon, pecorino romano DOP, egg yolk, freshly ground pepper and spaghetti.
INGREDIANTS
320 g of spaghetti
300 g of cured bacon
5 yolks
50 g of grated pecorino romano DOP with Black Peel
salt
pepper
Here's how to prepare spaghetti carbonara: first clean the piece of bacon, removing the rind. Cut the piece of bacon into cubes and put them to brown in a large pan. No oil is needed, as the bacon will release its fat during cooking. Once the bacon has browned, turn off the heat and keep the excess fat.
Now devote yourself to the eggs, of which you will use only the yolks: beat them in a metal bowl with the fat from the bacon filtered with a strainer. Bring water to a boil in a saucepan. Place the bowl on the edge of the pot and work the egg yolks with a whisk in a bain-marie. Add the pecorino and continue mixing. Remove from the heat: if you notice that the sauce obtained is too thick, add a few tablespoons of hot water in order to obtain a shiny and creamy mixture.
Boil the spaghetti al dente in not too salty water (the sauce is already very savory) and add them to the bacon. Cook for a couple of minutes on the stove and transfer everything to a large bowl. At this point add the cream of egg yolks, black pepper and mix well.
Portion into serving dishes and complete with pecorino cheese and a sprinkling of black pepper. The spaghetti carbonara are ready to be served.
Enjoy your meal!
If you want to buy Italian products you can go up www.deliveryitalianfood.com. Numerous offers await you!