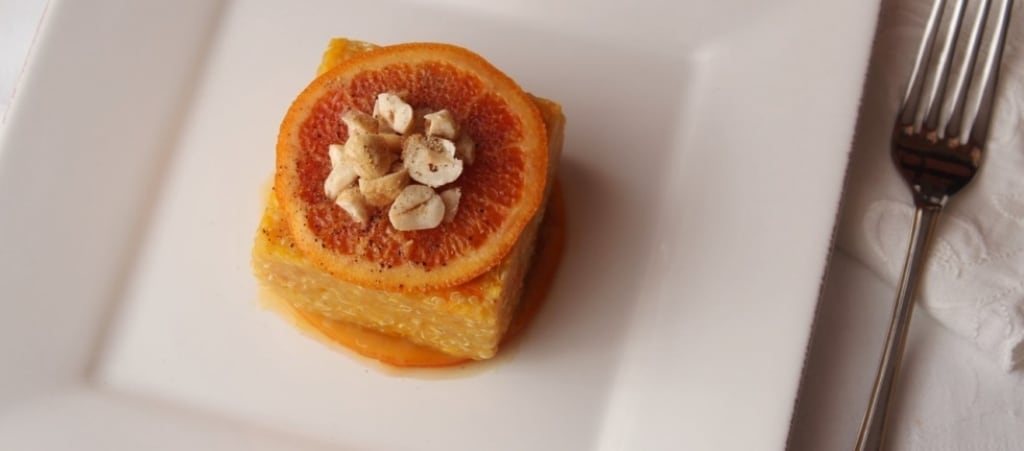 INGREDIANTS
200 g of white quinoa
500 g of pumpkin
2 untreated oranges
30 g of toasted hazelnuts
fresh rosemary
Brown sugar
extra virgin olive oil
smoked salt
salt
pepper
Cook the pumpkin in the oven or in a pan with a little oil, a sprig of peeled rosemary and a drop of water if necessary until tender, add a pinch of salt and pepper and whisk it to obtain a smooth cream. We cook the quinoa in double its quantity of lightly salted water and drain it when it is tender and the seeds have opened.
In the meantime, slice the oranges and spend a few minutes in a pan with a couple of tablespoons of sugar. When the oranges are slightly caramelized, put 8 slices aside for the final decoration, blend half with the pumpkin and cut the remaining pieces into small pieces.
Put the hazelnuts in a non-stick pan with two tablespoons of sugar and a tablespoon of water and cook over low heat, stirring until the sugar becomes sandy and sticks to the hazelnuts. At this point, transfer the hazelnuts to a surface covered with parchment paper, add a little smoked salt, let them cool and coarsely chop them.
Season the well-drained quinoa with the pumpkin cream and orange pieces, mix well, season with salt and pepper and add a drop of oil. Place a slice of orange in the center of each plate, print a portion of quinoa on each using a pastry cutter, complete with another slice of orange and the hazelnuts. Add a freshly ground pepper and a drizzle of oil before serving.
If you want to buy Italian products you can go up www.deliveryitalianfood.com. Numerous offers await you!
Enjoy your meal!