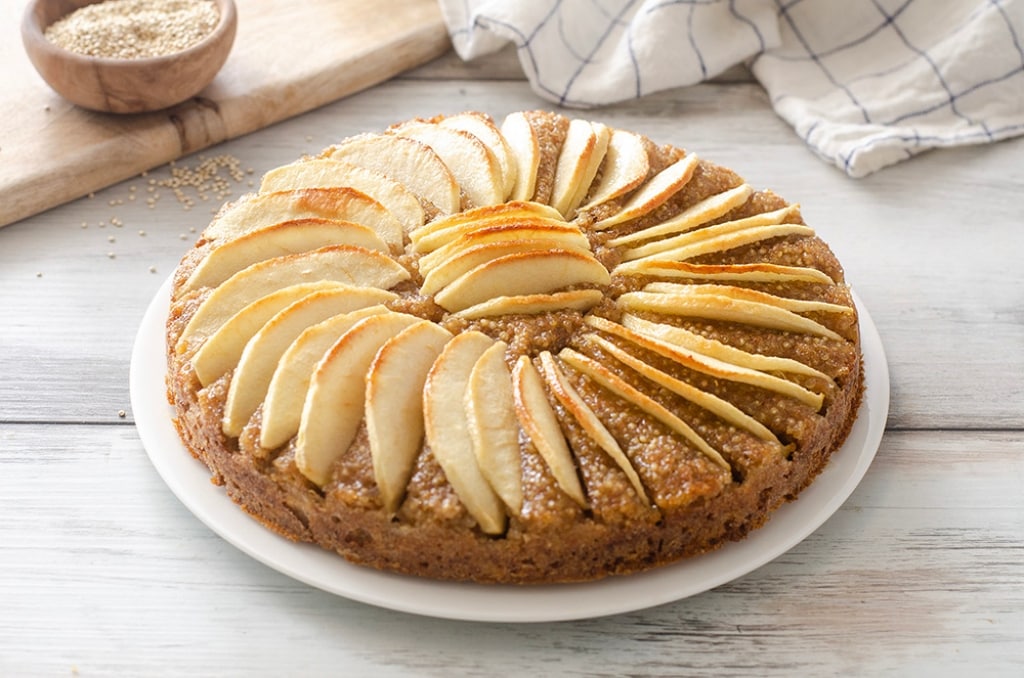 INGREDIANTS
130 g of whole wheat flour
120 g of quinoa
2 rennet apples
1 golden apple
130 g of brown sugar
1 untreated lemon
1 teaspoon of baking powder
salt
To make the apple and quinoa pie, start peeling the rennet apples and cutting the pulp into chunks. Transfer it to a pan with two tablespoons of water and 2 of sugar. Add the grated zest and the juice of ½ lemon and cook with the lid on, over low heat, for about ten minutes. Evaporate any remaining liquid and blend the pulp with an immersion blender until you obtain a homogeneous puree that you will keep aside.
Rinse the quinoa well and toast it for a few minutes in a non-stick pan. Pour double its volume in water and cook, over low heat and covered pot, for about 20 minutes. Shell it with a fork and let it cool.
Mix the flour with the remaining brown sugar, salt and yeast. Add the quinoa and apple puree.
Mix well to mix all the ingredients and pour the mixture into a springform pan lined with baking paper, leveling the surface with the back of a spoon. Peel the golden apple, cut it into slices and sprinkle with the remaining lemon juice. Then arrange the slices in a radial pattern on the surface of the cake.
Transfer the cake to a preheated oven at 180 ° and cook for about 45 minutes. Remove the apple and quinoa pie from the oven, let it cool before turning it out, then serve it cold.
If you want to buy Italian products you can go up www.deliveryitalianfood.com. Numerous offers await you!
Enjoy your meal!