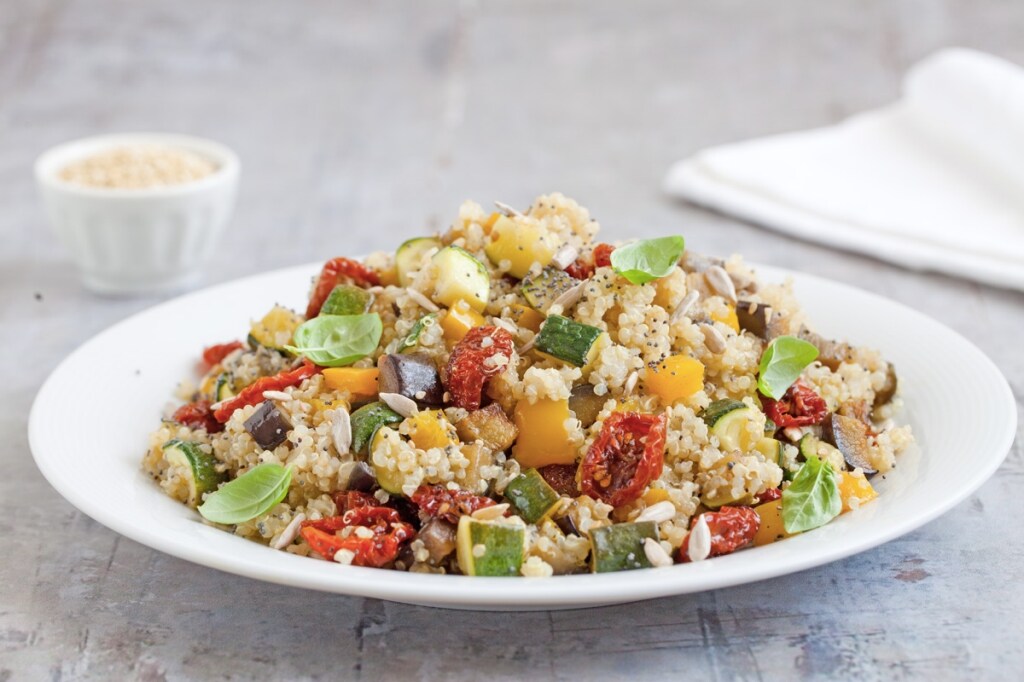 INGREDIANTS
200 g of quinoa
2 green courgettes
1 long eggplant
1 yellow pepper
2-3 tablespoons of cherry tomatoes in oil
1 clove of garlic
1-2 tablespoons of mixed seeds to taste (flax, sesame, poppy, sunflower)
fresh basil
extra virgin olive oil
salt
pepper
To make quinoa with vegetables, start rinsing the quinoa several times in cold water and let it drain very well in a colander. Place it in a fat-free pan and toast it, stirring often for 3 minutes.
Transfer it to a saucepan and cover it with double by volume of hot water. Place on the heat and cook, covered and over low heat, for about 15 minutes or until the liquid is absorbed. If, on the contrary, it gets too dry, you can add more water during cooking. Transfer it to a bowl and let it cool.
Meanwhile, dice the courgettes, aubergine and pepper and sauté them in a pan with oil and garlic. At the end of cooking add salt and pepper and then let it cool.
Add the cooked vegetables to the quinoa which have reached room temperature, the dried tomatoes well drained from the oil, the mixture of seeds and season with oil, salt and pepper. Complete with a few basil leaves and immediately serve the quinoa with vegetables.
Enjoy your meal!
If you want to buy Italian products you can go up www.deliveryitalianfood.com. Numerous offers await you!