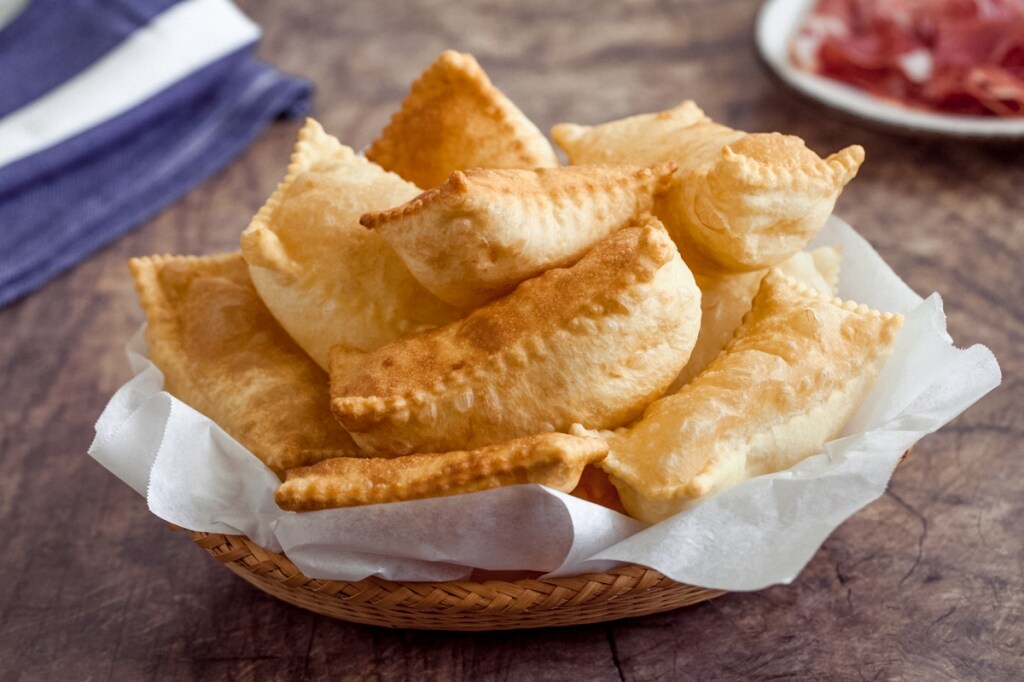 The fried gnocco is a delicious Emilian specialty: puffy and golden, dry and hollow inside, it seems made to be stuffed with meats and cheeses. Easy to prepare and quite fast in execution. As an appetizer, snack or main course, it is best enjoyed with a glass of Lambrusco and in company.
INGREDIANTS
FOR THE DOUGH
500 g of flour 0
250-260 ml of sparkling water
30 g of lard
1/2 teaspoon of baking soda
salt
FOR FRYING
lard
To prepare the fried dumplings, collect the flour with the salt, sparkling mineral water, lard and baking soda in a bowl. Knead everything until you get a well-bonded mixture, which has become smooth and elastic. Wrap it in plastic wrap and let it rest for 30 minutes.
Roll out the dough with a rolling pin on a pastry board, bringing the dough to a thickness of about 4-5 mm. With a pastry wheel cut many rectangles or diamonds.
Fry them, a few at a time, in a saucepan with plenty of lard, turning them both until they are well swollen. Drain them with a slotted spoon and let them dry briefly on kitchen paper. Then serve the fried dumplings hot with cold cuts and cheeses.
If you want to buy Italian products you can go up www.deliveryitalianfood.com. Numerous offers await you!
Enjoy your meal!