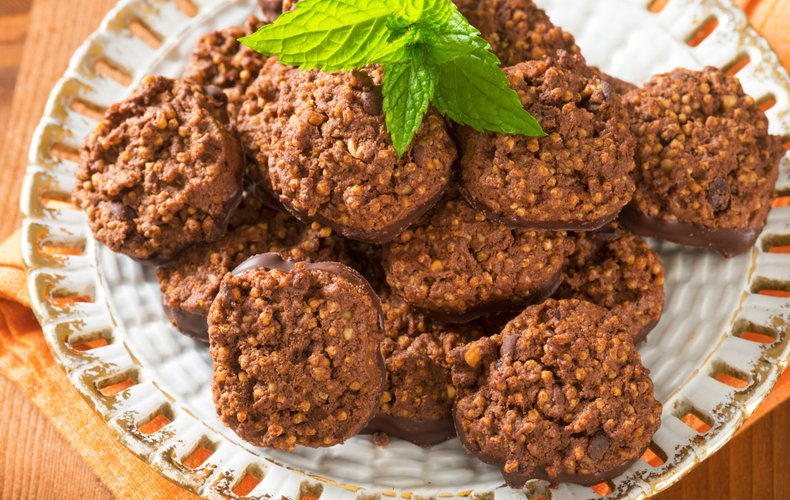 Ingredients for 6 people
150 gr of semi-wholemeal flour
100 gr of whole cane sugar
60 gr of Soy Milk
50 gr of Sunflower Seed Oil
50 gr of Dark Chocolate
35 gr of puffed Quinoa
30 gr of Maizena (Corn Starch)
25 gr of Bitter Cocoa Powder
5 gr of yeast for desserts
1 pinch of salt
TO GUARANTEE:
q.s. of melted dark chocolate
To prepare Vegan Quinoa and Chocolate Cookies, combine the flour, corn starch, cocoa and baking powder in a large bowl. Separately, finely chop the dark chocolate and add it to the powders together with the sugar, quinoa and a pinch of salt.
Mix the oil and vegetable milk together and add them to the mix of dry ingredients, working first with a fork and then with your hands, until you get a compact and workable dough.
Roll out the dough between two sheets of parchment paper to a thickness of about 1/2 cm, cut with a cookie cutter and place the cookies on a baking tray lined with parchment paper. Bake the biscuits in a preheated oven at 175 ° C for 15 minutes.
Once ready and golden brown the Vegan Quinoa and Chocolate Cookies on a wire rack and in the meantime melt the chocolate in Bagno Maria. Dip the base of each biscuit in dark chocolate, let it set for a few minutes and serve!
If you want to buy Italian products you can go up www.deliveryitalianfood.com. Numerous offers await you!
Enjoy your meal!