Strauben are typical Tyrolean sweet pancakes; they have the shape of a snail and are composed of a mixture of flour, eggs, milk, sugar, butter and an aromatic glass of grappa.
The strauben (the German word straub means tortuous as the shape that the cake takes during frying) are usually prepared in the street parties or during the village festivals and are also called stràboli, stràuli, or fortaie.
After the frying that originally took place in fat, the strauben are sprinkled with abundant icing sugar and generally accompanied with cranberry jam, but also with whipped cream or cooked fruit.
INGREDIANTS
FOR STRAUBEN
200 g of flour 00
250 ml of whole milk
20 g of melted butter
3 eggs at room temperature
20 ml of brandy
50 g of sugar
1 pinch of salt
fry oil

TO COMPLETE
powdered sugar
cranberry jam (or even berries) or chocolate
In a bowl, mix the milk and flour with a whisk. Add the egg yolks (keeping the egg whites), the melted butter at room temperature and the grappa. Stir until you get a homogeneous mixture.
In a second bowl, whip the egg whites together with the salt and sugar, which will be added little by little with a spoon.
Incorporate the whipped egg whites, a little at a time, into the egg yolk mixture, stirring from the bottom up to avoid disassembling. You will need to get a homogeneous mass.
Pour plenty of oil for frying into a pan with a diameter of 25 cm. When it has reached the temperature of 170 °, pour the batter by passing it through a funnel. You will have to perform a circular and concentric movement starting from the edges up to the center. Brown the strauben on both sides. Drain them with a slotted spoon, dry them on absorbent paper and serve them sprinkled with icing sugar. Top with a tablespoon of cranberry jam and serve.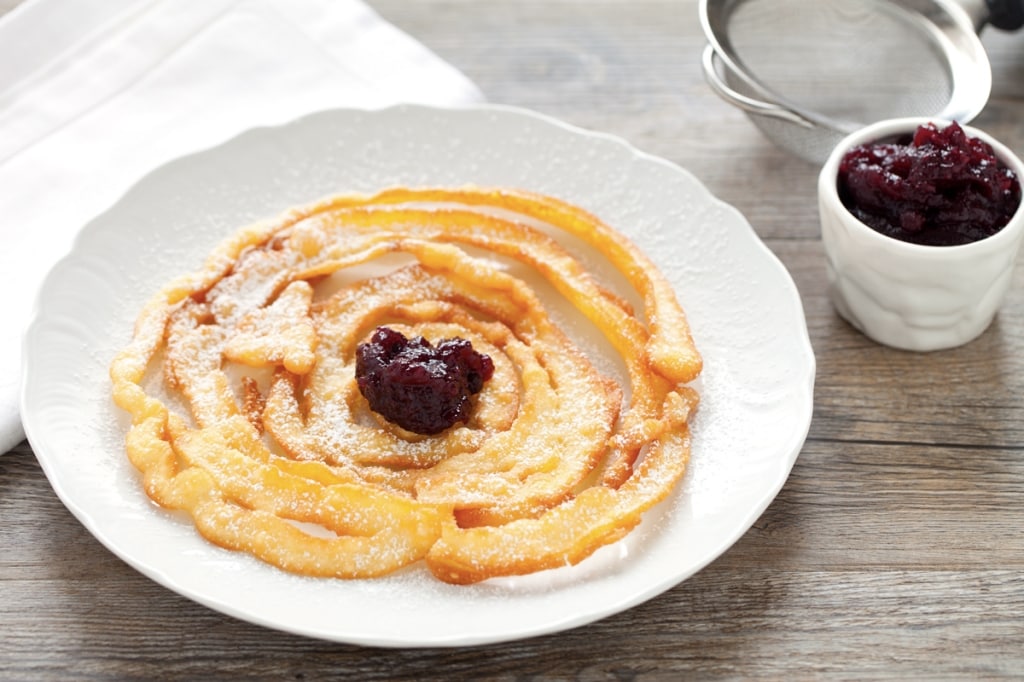 If you want to buy Italian products you can go up www.deliveryitalianfood.com. Numerous offers await you!
Enjoy your meal!