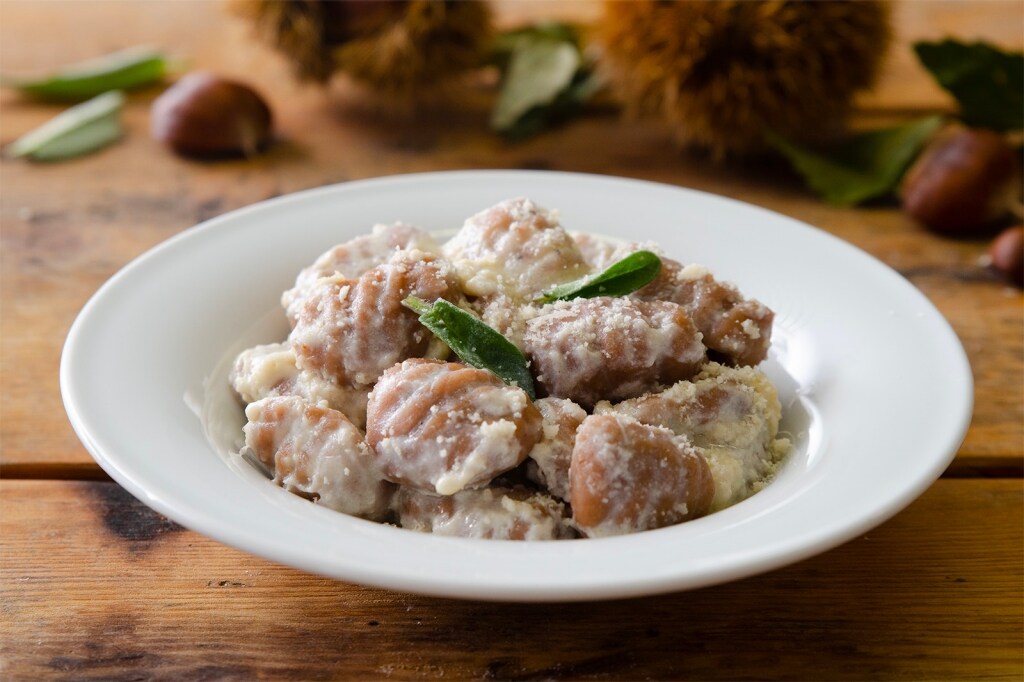 INGREDIANTS
FOR GNOCCHI
120 ml of water
120 ml of milk
200 g of chestnut flour
200 g of flour type 0
salt
FOR THE SEASONING
650 ml of milk
grated parmesan cheese Parmigiano Reggiano DOP
butter
sage
1 clove of garlic
nutmeg
salt
Start the preparation from the dough for the chestnut gnocchi. Collect the water and milk in a mug. Mix the two flours in a bowl with a pinch of salt. Then stir in the liquids and briefly knead the dough with your fingertips until the mixture is not too homogeneous. Form a ball and let it rest for about ten minutes.
Take small portions of dough and form cords with a diameter of about two cm. Then cut them into pieces always 2 cm long and arrange them on a floured cutting board. Using a fork, hollow out the individual cubes giving them the classic shape.
In the non-stick saucepan, gently melt a generous knob of butter with the sage and the clove of garlic cut in half. Pour in the milk, add a little grated nutmeg, a pinch of salt and bring to a boil. Pour the gnocchi into the milk. Cook over medium heat, stirring until the milk has reduced, forming a cream.
Stir off the heat with a knob of butter, a little Parmesan cheese and more nutmeg. Serve the chestnut gnocchi immediately.
If you want to buy Italian products you can go up www.deliveryitalianfood.com. Numerous offers await you!
Enjoy your meal!