It is said that the great Eduardo De Filippo, one evening, at the end of a show, was so tired that he skipped the usual dinner he always had with the brothers Titina and Peppino. When he got home, hunger was felt and he decided to prepare a spaghetti with clams…. however, lacking the main ingredient, he made do with what he had at home and, thus, spaghetti with "fujute clams" (escaped) was born.
Ingredients for 4 people
350 gr of vermicelli in bronze extruder
4 cloves of garlic of excellent Italian quality
500 gr cherry tomato
4/5 sprigs of parsley
1 hot dried chilli
2 gr of black pepper
fine sea salt
170 gr of extra virgin olive oil
Brown the garlic in a large pan with extra virgin olive oil (if you like, add a little chilli). Also add the very small chopped parsley stalks and sauté them just for a few seconds.
Then the cherry tomatoes in wedges must also be placed, and the sauce must be cooked for about 10 minutes. Season with salt and remove the garlic.
Cook the spaghetti in abundant salted water and drain them al dente. Set aside a little of the pasta cooking water, it will be used to sauté the spaghetti in the sauce.
Toss the spaghetti in the pan with the sauce, adding a little cooking water from the pasta until we get the desired consistency.
When cooked, remove the pan from the heat, add plenty of chopped fresh parsley and a drizzle of extra virgin olive oil, mix and serve.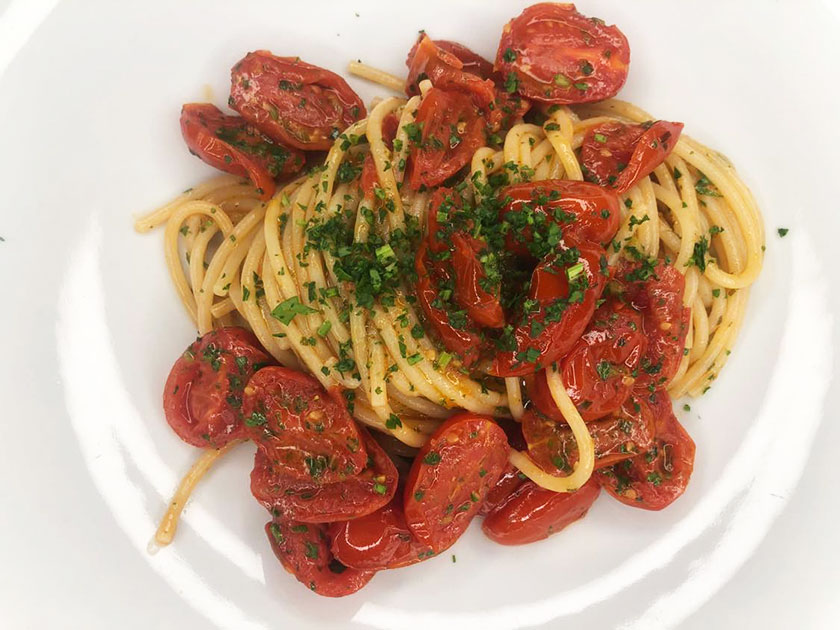 If you want to buy Italian products you can go up www.deliveryitalianfood.com. Numerous offers await you!
Enjoy your meal!