Corzetti in walnut sauce are seasoned with a delicate sauce prepared by pounding the walnut kernels and then adding them to the sour cream and the soaked and squeezed breadcrumbs. They are characteristic of the Ligurian Riviera, in particular Genoa and La Spezia.
Ingrediants
00 flour 300 g
Yolks 2
White wine 2 tbsp
Extra virgin olive oil 1 tbsp
salt
FOR THE SAUCE
Walnuts 80 g
Extra virgin olive oil 20 g
Breadcrumbs 10 g
1⁄4 clove garlic
Fresh liquid cream 1,5 dl
salt
Place the flour in a fountain, pour in the egg yolks, wine, oil and salt and knead to obtain a homogeneous mixture that you will spread to a thickness of 3 mm.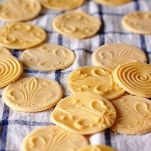 with the notched dough cutter mold, make disks that will be rolled up to form the corzetti.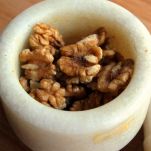 Pour the kernels in boiling water for a minute, drain, peel them, crush them in a mortar, add the squeezed breadcrumbs, garlic and a pinch of salt. Work everything with the pestle, then pass through a sieve, collecting in a bowl, and add the sour cream and oil, mixing carefully.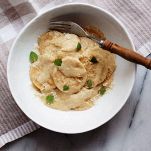 Cook the corzetti in abundant salted water, drain when al dente, pour them into a bowl, toss with the sauce and serve immediately hot.
If you want to buy Italian products you can go up www.deliveryitalianfood.com. Numerous offers await you!
Enjoy your meal!