The Neapolitan ragù, 'O rraù in dialect, is a typical recipe of the Neapolitan culinary tradition: tomato sauce with chopped meat, which requires a long cooking, about 5 hours. It is said in Naples that ragù must pippiare, an onomatopoeic term to indicate that it must simmer imperceptibly. The sauce must slowly absorb the flavor of the meat, which becomes softer and softer as it cooks, which will melt in your mouth.
For the ragù
BEEF MUSCLE 500 gr
PORK RIBS 500 gr
PORK LEG 500 gr
ONION 1
RED WINE 2 glasses
PARSLEY 1 tuft
Clove of garlic 3
Grated pecorino
GRATED PARMESAN CHEESE PARMIGIANO REGGIANO DOP
TOMATO SAUCE 2,5 kg
EXTRA VIRGIN OLIVE OIL
BASIL LEAVES optional
SALT
For the rigatoni
RIGATONI 400 gr
GRATED PARMIGIANO REGGIANO PARMESAN
Grated pecorino
BLACK PEPPER optional
GROSS SALT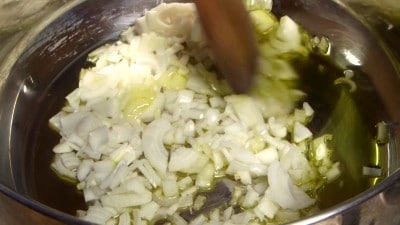 In a large saucepan pour a round of extra virgin olive oil, add the chopped onion, turn on the heat and let the onion simmer gently over medium heat.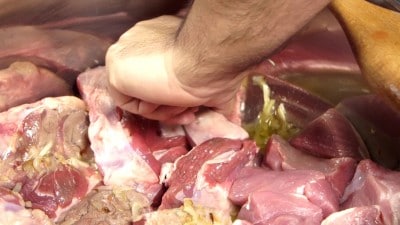 Transfer all the cuts of meat one at a time to the casserole with the onion.
Let the meat brown very well, turning it with the help of tongs. Don't rush! This is a time-consuming preparation, so don't move on to the next step if you're not sure you've completed the previous one.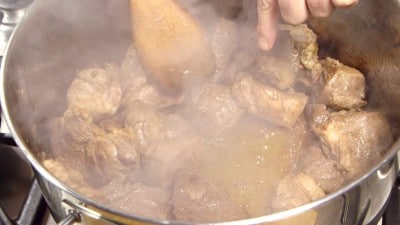 When the meat is well browned, deglaze with the wine, bring the heat to maximum and quickly evaporate the alcoholic part.
When the alcoholic part of the wine has completely evaporated, add the tomato puree to the pan.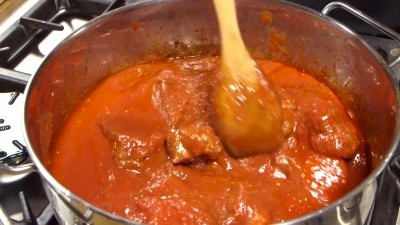 Cook for about 3 hours, adjusting the salt halfway through cooking.
At this point all that remains is to cook the pasta and dress it with this sauce.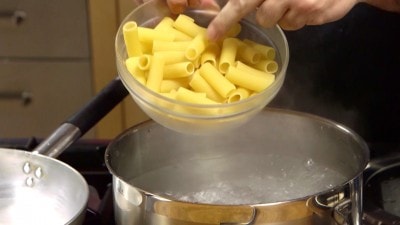 Bring a pot of water to a boil, add salt and boil the pasta.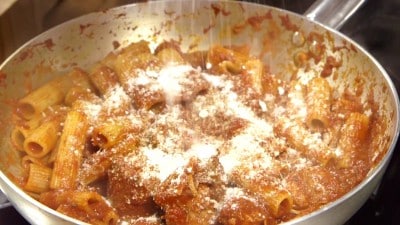 If you want to buy Italian products you can go up www.deliveryitalianfood.com. Numerous offers await you!
Enjoy your meal!