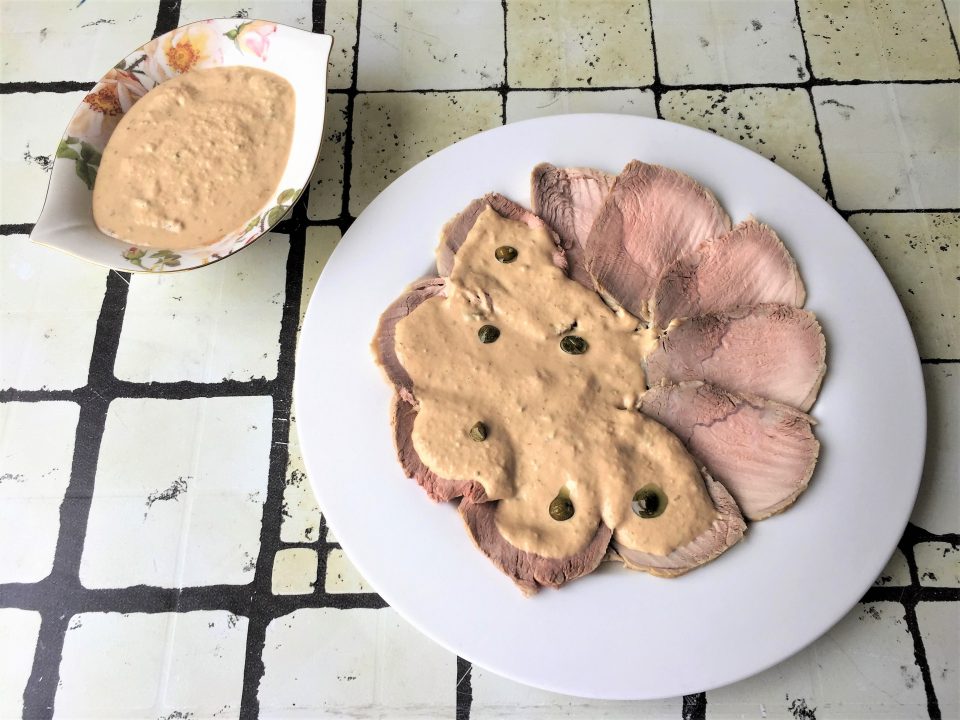 Vitello tonnato, also called Vitel Tonné, is a recipe of Piedmontese origin.
INGREDIANTS
1 Kg Round of veal
300 g Tuna in Oil
6 Anchovies in oil
3 hard-boiled eggs
Celery stalk
White wine vinegar
Dry white wine
Laurel
Sage
Cloves
Pickled capers
Pickled gherkins
Lemon
Extra virgin olive oil
salt
Arrange the walker in a bowl, cover it with white wine, perfume with the chopped celery, 2 bay leaves, 3 cloves, 6 sage leaves. Cover the bowl with plastic wrap and place to marinate in the fridge for at least 12 hours. Transfer the walker to a saucepan, cover it with the marinade, filtered, and top up with water so that it is abundantly covered. Add salt, bring to a boil and cook for an hour. Keep 2 ladles of cooking water, then drain it, let it cool for a couple of hours, then put it in the fridge for an hour to harden it.
Blend the drained tuna with the firm yolks, a generous spoonful of capers, the juice of one lemon, the anchovies, half a glass of oil and a spoonful of vinegar. Add 2 ladles of the cooking water kept aside to the tuna sauce to make it smooth and velvety.
Cut the meat into very thin slices (the ideal would be to use the slicer) and arrange them on plates. Cover them abundantly with tuna sauce and complete with some capers, accompanying them with pickled gherkins to taste.
If you want to buy Italian products you can go up www.deliveryitalianfood.com. Numerous offers await you!
Enjoy your meal!