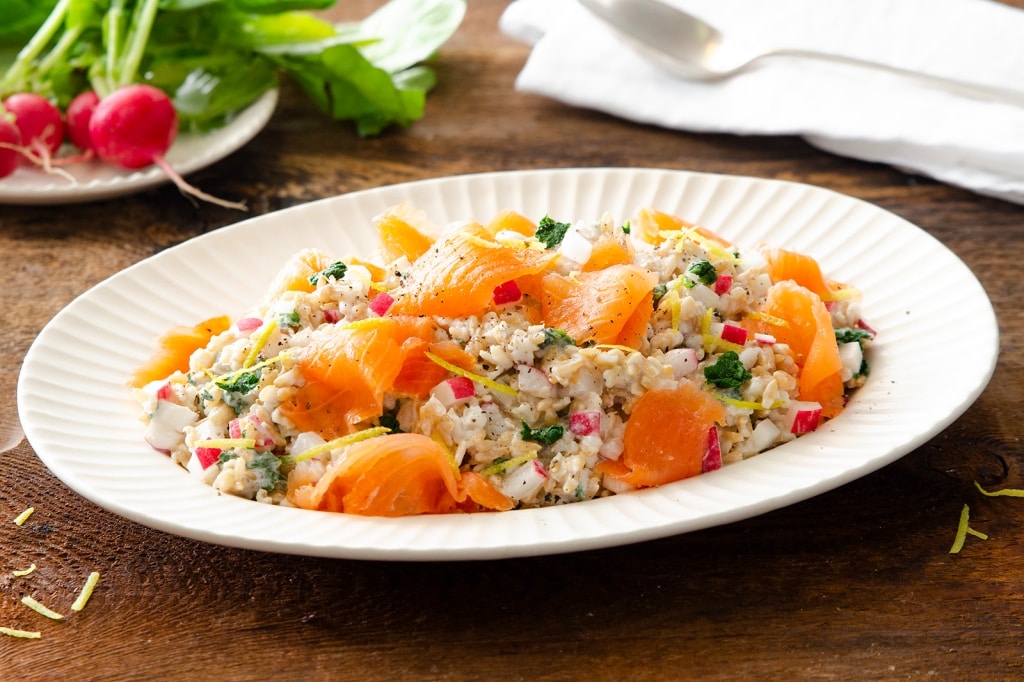 The oat, salmon and radish salad is a tantalizing and original single dish that recalls Nordic flavors. It is easy to make
and thanks to the interesting combination of textures it will appeal to any occasion, from dinner with friends to lunch with the family.
INGREDIANTS
120 g of peeled oats
1 bunch of radishes with leaves
120 g of smoked salmon
1 untreated lemon
1 dl of fresh cream
salt
black pepper
To make the oat, salmon and radish salad, rinse the oats repeatedly in cold water then leave them to soak in a bowl with half a liter of water for 12 hours. After this time, transfer it to a pot with its water, bring to a boil, then cover, lower the heat and cook covered for about 50 minutes or in any case until the liquid is absorbed and the cereal soft. Drain the oats from any residual water and let them cool.
Separate the radishes from the leaves, wash them very well and blanch them for a minute in boiling salted water. Drain, squeeze and chop finely. Wash the radishes and cut them into very small cubes.
Wash the lemon, remove the zest with a rigalimoni and set it aside. Squeeze the juice and strain it. In a bowl, mix the cream with the lemon juice until it thickens, add a pinch of salt and a pinch of black pepper.
Season the oats with the sour cream, then add the diced radish and the chopped leaves, mixing well and gently.
Transfer everything to a serving dish and arrange the slices of smoked salmon on top. Complete with the lemon zest, a sprinkle of freshly ground pepper and immediately serve the oat, salmon and radish salad.
If you want to buy Italian products you can go up www.deliveryitalianfood.com. Numerous offers await you!
Enjoy your meal!