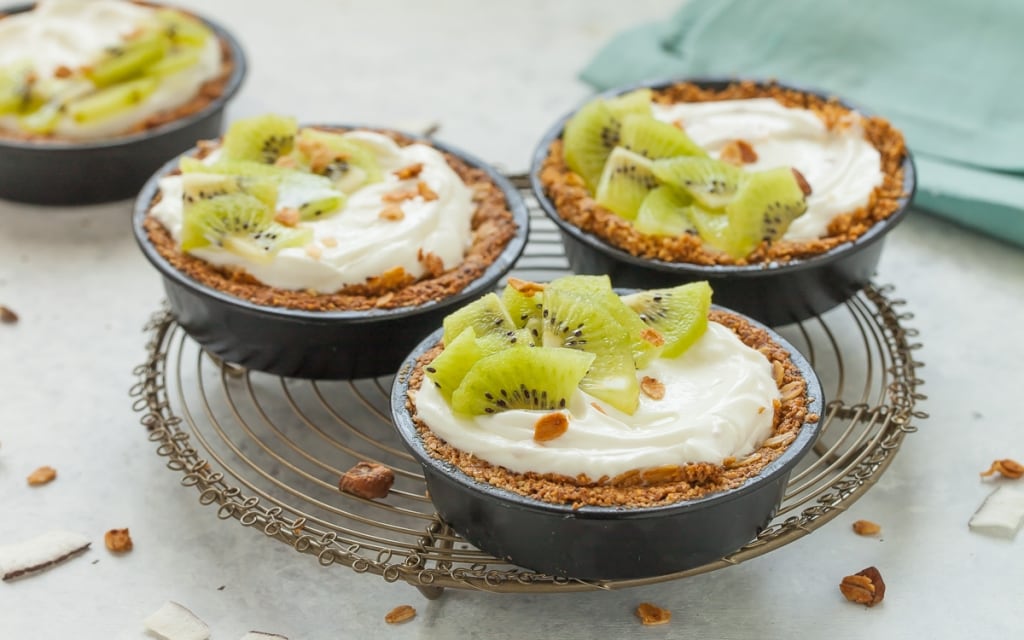 Delicious and original, the kiwi granola tartlets are delicious treats, perfect to serve for a Sunday brunch or breakfast. The recipe is quick and easy, resulting in crunchy oat and dried fruit shells, and a fresh yogurt and fresh fruit filling. A very happy contrast.
INGREDIANTS
FOR 6 TARTELLETTE OR 12 SMALL BASKETS
100 g of pitted dates
30 g of natural pistachios already shelled
60-70 g of fluid honey
110 g of oat flakes
1 teaspoon of grated coconut
cinnamon powder
FOR THE FILLING AND DECORATION
250 g of Greek yogurt
4-5 tablespoons of powdered sugar
1/2 vanilla bean
2-3 kiwis
spray gelatin for polishing
Start preparing the shells of the kiwi granola tartlets: place the pitted dates with the pistachios in the mixer bowl and blend them until you get a paste.
Transfer it to a bowl and add the honey, grated coconut, rolled oats, and cinnamon.
Mix everything with a spoon until it is combined. Divide the mixture into 6 non-stick tartlet molds, brushed with a little oil,
and arrange it with a spoon so as to cover both the base and the edges. Bake in a preheated oven at 180 degrees for 15-20 minutes or in any case until golden brown.
While you are letting the prepared shells cool, dedicate yourself to the filling: in a bowl, mix the Greek yogurt with the sifted icing sugar and the vanilla seeds.
Mix with a whisk until a homogeneous cream is obtained. Transfer it inside the tartlets and level.
Decorate with the peeled and sliced kiwis and serve the kiwi granola tartlets after having polished them with a little spray gelatin.
If you want to buy Italian products you can go up www.deliveryitalianfood.com. Numerous offers await you!
Enjoy your meal!