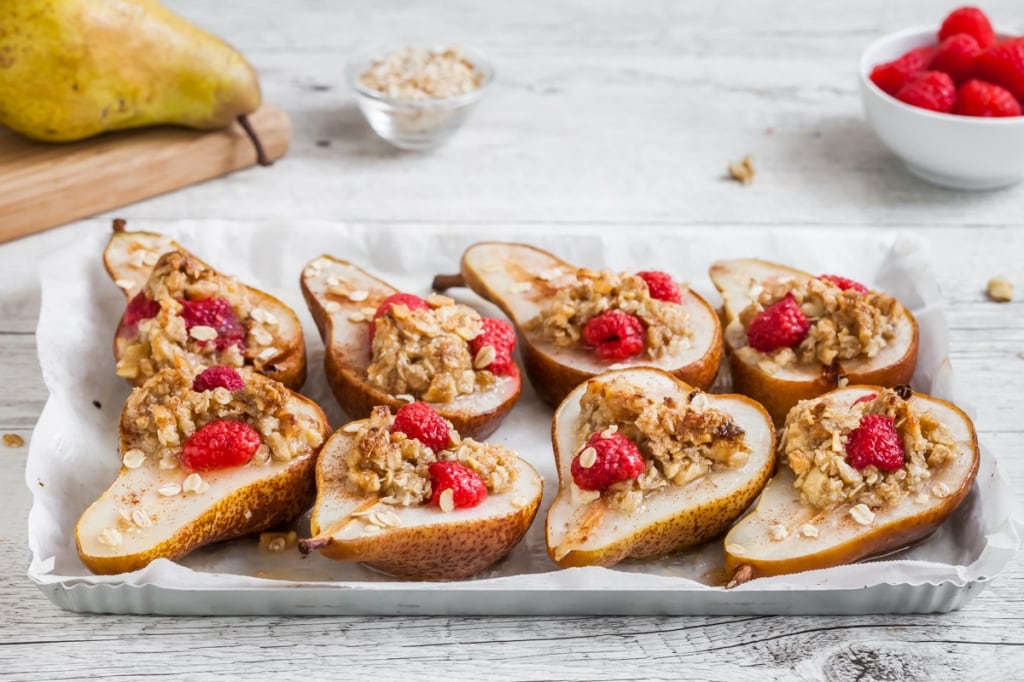 Baked pears with oat crumble are a tasty idea to serve an easy-to-make but very inviting fruit dessert.
Good hot or lukewarm, served like this or accompanied by a little fiordilatte ice cream, they are perfect for any occasion.
INGREDIANTS
4 Abate pears
60 g of rolled oats
60 g of shelled walnuts
40 g of chopped white chocolate
70 g of butter
60 g of brown sugar
cinnamon powder
the juice of 1 lemon
16 raspberries
fluid honey
The recipe for baked pears with oat crumble is very easy. Preheat the oven to 180 degrees. In a bowl, collect the oat flakes,
chopped walnuts, sugar, white chocolate, cinnamon and diced cold butter.
Mix everything with your fingertips until you get a crumbly mixture.
Place in the refrigerator until ready for use.
Wash and dry the pears, then cut them in half and with a digger take the core and dig a little in the surrounding area in order to
form a hollow. Sprinkle them with a little lemon juice to keep them from blackening and place them on a baking sheet lined with parchment paper.
Fill the hollow of each pear with the prepared mixture, add two raspberries, sprinkle with a drizzle of honey and cook for about 20-25 minutes
or until golden brown. Remove from the oven the pears in the oven with oat crumble and serve hot or lukewarm and, if you like, with a little fiordilatte ice cream.
If you want to buy Italian products you can go up www.deliveryitalianfood.com. Numerous offers await you!
Enjoy your meal!